I'm sure all my doggie loving cyber buddies would enjoy reading what you have to say about me. You can stop by and leave a message in my Guest Book by either clicking on the SIGN BOOK logo above, or at the SIGN MY GUEST BOOK link at the bottom of the page.

My Munchgram is still under construction, but it should be finished soon. I'm working OVERTIME to complete it. Hmmmmm, I wonder if they have doggie labor laws???

Wanna see some other cute pooches?
Come and visit Oreo, Albie and Lucy. They're all hanging out on my guest page.
Hey, did you know I have my own pet? Meet Bubbles, my goldfishy!
E-Mail??? Did somebody say E-Mail??? I LOVE E-Mail cause my Mom reads it to me and gives me TREATS! Click here and send me a message. That way I'll get extra goodies!! My fave is peanut butter flavored mini-biscuits. What's yours???
Do you like my page? Do you REALLY, REALLY like it? Send it to your friends, I bet they will really, really like it, too.
Th
is is my very favorite tv channel. Just click on this Animal Planet Logo for all the latest happenings. It's the only channel that's ALL ANIMALS, ALL THE TIME!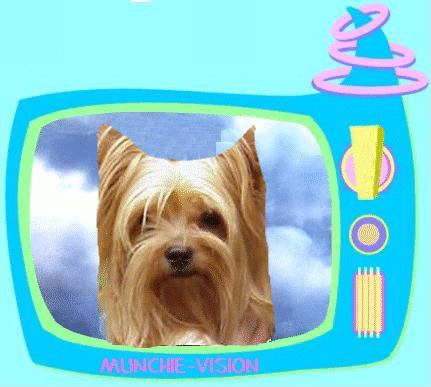 Hi, I'm Munchie, and welcome to my little speck of the net. I'm a 3-year old Yorkie (my birthday is February 5, if you want to send me a card) and I live in Evansville, Indiana aka Stoplight City, USA.

Some people think Evansville is a pretty boring town, but not for a dog. Ahhhhh, there is always a street light to sniff, the river to visit, and lucky for me, neighbors cats that wander in our yard for me to chase off hehehehe. I HATE cats. Oh, it lands me in a lot of trouble, but there is nothing I like better than chasing a dumb ole cat out of my yard. I know how to work my Dad to take me to Mickey D's for a burger, too. I just whine and paw his face, and he's such a sucker, that he takes me.
Now that I'm three, I've settled down a lot. I still bark ferociously at any man or beast that dares to step foot into our yard. People just laugh at me cause I'm so little. It's tough being little - if I didn't bark they might not even see me. I'm a big phony though, I wouldn't really bite them, it's more fun to be petted.
My very fave toy is Bucky Beaver. When I'm really bored, I grab Bucky by the throat and give him the death shake. Bucky is a stuffed beaver that I've had since I was a pup. When I was really little, I used to crawl underneath him for my naps. I have lots of toys, but none are as much fun as Bucky. My Granny even had to sew him up, because I've attacked him so much.
A typical day for me starts pretty early, cause I have to go potty. I lick my Dad's face, and he says, "Dammit Munchie, do you have to go out right now?" But he always gets up and takes me. I never get in trouble unless I just want him to go downstairs with me for a drink. I can't help it if I get thirsty and I'm scared of the dark. Boy, does Mom hear about it when I don't have to pee and am just thirsty. He stomps up the stairs muttering something fierce. But I just lay low for a few minutes, and then snuggle up next to him hehehehe.
My very, very favorite word is BREAKFAST, followed by

DIN-DIN, TREAT and BYE-BYE. My Mom spoils me really bad. The only kind of dog food I will even think about eating is that pricey Cesar's Select Dinners brand. That's good stuff, but the rest of it is pretty lame, so I don't eat it. I just cry until they give in and buy me the good stuff. My Dad says it's a good thing I don't eat much or he would make me eat Ol' Roy. Just between you and me, my Dad's bark is worse than his bite hehehehe. I had a bite of that Ol' Roy stuff once, it tasted sooooo gross, I spit it out!
What I really like is PEOPLE food. I eat it all the time. My very faves are bacon, green peppers and ice cream. I got in trouble with the ice cream, though. I was sitting in my Mom's lap, and she was licking one side of her cone, so I was just licking the other side. How was I supposed to know I shouldn't do that. It was right there in front of my nose. Oh well, it sure was fun while it lasted hehehehe.
To ensure that you (yes, YOU) have the best possible virtual Yorkie experience while browsing my pages, I've tried to offer lots to see and do. Send a Munch-Gram (one of my special online Yorkie postcards), visit Bubbles, my goldfishy, and don't forget to stop by my gallery for the latest up-close and personal pics of yours truly.
Love,
Munchie